Made to Measure Roller Blinds

Gwent and Cardiff
Are you looking for made to measure roller blinds in Gwent and Cardiff? If you are looking for the premier supplier of roller blinds for your house or office, look no further than Phoenix Blinds in West Yorkshire.
Our roller blinds and accessories are attractive and practical, provided with nothing less than top quality service and excellent value for money. As a result, we constantly receive fantastic reviews from our local customers and garnered an excellent reputation in the industry.

Those unsure of which fabric or colour to choose are welcome to take the free samples that we offer.
You can analyse it against the colours currently in your living room, bedroom, kitchen, etc., to give you peace of mind before making a direct purpose at the checkout. In addition, we offer online delivery orders of our blinds straight to your home to improve your experience.

Roller blinds provide your home with fresh and attractive designs that make your house an excellent place for you and your family.
Our customers can enjoy blinds that best complement a cosy cottage or the perfect canvas to inject some personality flare into a contemporary home.
The blinds can comfortably suit any interior décor due to their versatility nature which enhances the look of your house. They are perfect for sound insulation, blocking and taking control of the lights as much as increasing the privacy of your home.
Types of Roller Blinds
There are three types of roller blinds that you can choose from, and the types depend on the material used in making the Blinds Made To Measure. Phoenix Blinds are experienced in offering the following roller blind solutions:
Blackout Roller Blinds
Blackout roller blinds provide complete opacity and are perfect for bedroom privacy or spaces that need to be kept dark for sleeping. They are incredibly effective in blocking any light from getting into a room, either in the daytime or at night. The dense fabric used to make these blinds also provide an extra degree of sound insulation, suitable for home cinemas and conference rooms where projectors may be used.
Light Filtering Rollers
The bathroom is the best place to use these blinds since it provides the maximum privacy you need. Being resistant to water is another advantage you will get from using light filtering blinds. On top of delivering privacy, this blind allows light to pass; thus, you will have the view and privacy.

Sunscreen Fabrics
These blinds encompass water-resistant, waterproof material, making them perfect for practical applications due to their ability to offer quality privacy. It's durable and resistant to moisture and water, making it an acceptable material for wet rooms like the kitchen and bathrooms.
Contact us today on the phone number or message us via our email address for a free quote, delivery service or enquiries on any of our shop's blinds and styles. Our friendly reps will be in touch to give you all the necessary details and information you're looking for.
How do I measure for Roller blinds?
We can measure Made Measure blinds first using a metal measuring tape because fabric ones often stretch and give an inaccurate reading.
Next, ensure you measure the blinds in centimetres and round any decimals to the nearest full centimetre.
All windows must be measured individually to ensure accuracy, even if they may look the exact sizes.

When deciding how to measure your roller blinds depends solely on how they sit; do they sit inside or outside?
A recess roller blind is when the window is not flushed to the wall. These kinds of blinds, roller are specially designed to be fast and easy to fit within the window recess. It doesn't overlap on the wall but sits nicely in the opening of the window.

How to fix Roller blinds that won't turn?
The best way to fix roller blinds if you find your blinds struggle to turn is to search close and look for a pin that you can use to turn the side of the roller blind.
Turn or twist the staple or nail until you find you cannot turn it anymore. You can use your fingers if you prefer or if you find it challenging, you could use pliers or similar tools that will assist you in turning it efficiently. Turning the pin adjusts the tensions of the operating system in your blind.
What widths do roller blinds come in?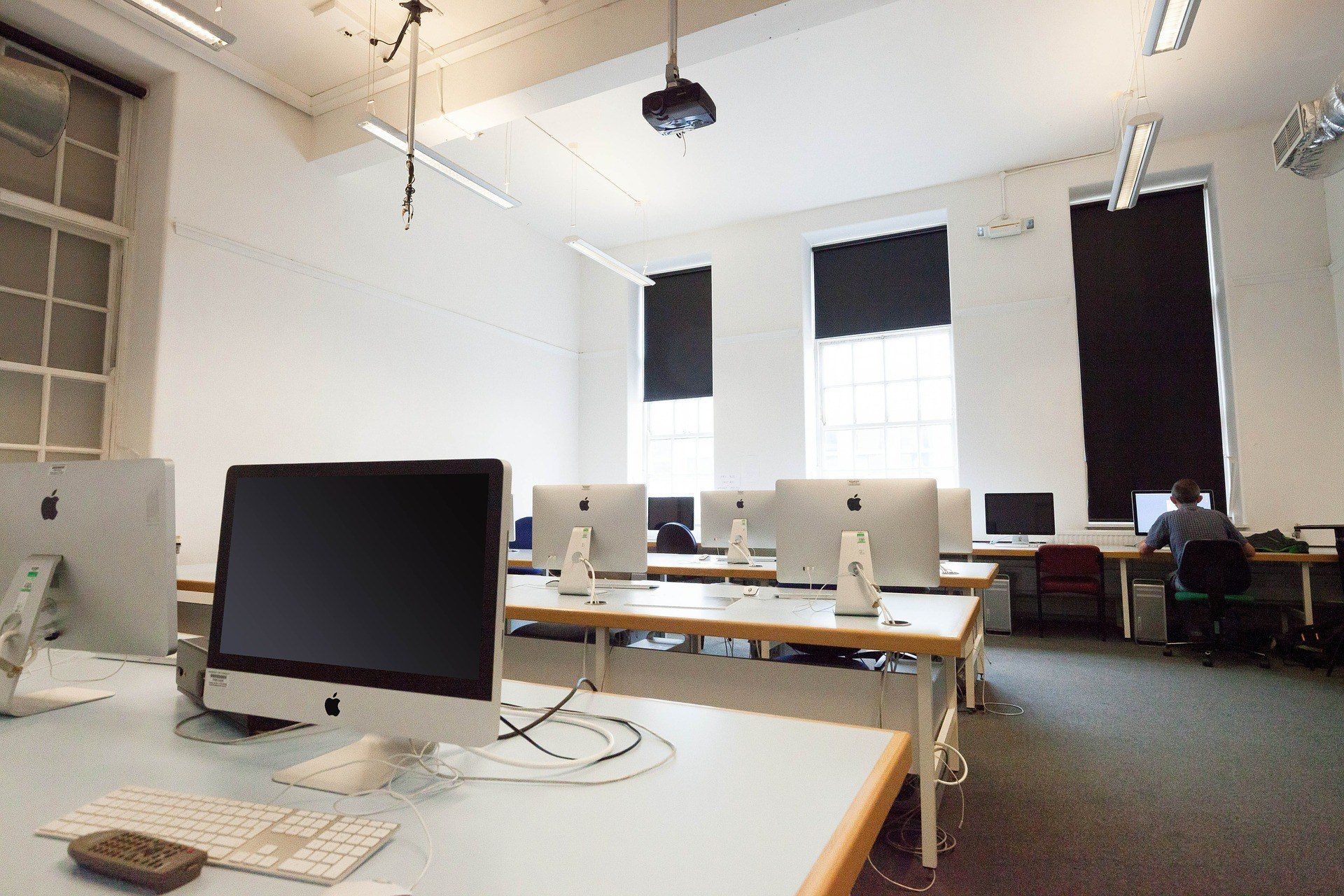 There are a few limitations to the sizes and widths; however, you can still achieve a stylish and practical appearance that provides enough light and privacy with roller blinds.
Numerous specialist fabrics are used in the creation of Made To Measure roller blinds. These fabrics have manufactured to specific set widths that offer limits to a certain degree, meaning there will always be a maximum width.
However, often such can be viewed as an advantage, as the vast majority of roller blinds can be made to around approximately 2 metres wide and 2.5 metres long.

Suppose you have wider than 2 metres windows, often these can be split with a series of individual panes of several sections. It is not unheard of to have numerous roller blinds at one specific window in such a case.
An example of this would be, suppose you have a 3-metre wide window; it may be split into 1-metre broad sections. That way, you can have three separate 1-metre wide blinds to cover each of the areas. The blinds will still touch and be close to one another.
Can I cut roller blinds to size?

You can cut roll blinds to suit the size of your windows.
The method most suitable for accuracy is through first affixing the brackets. Next, you want to ensure that the frames fit perfectly for their specific positioning on the window. Doing so allows your roller blinds to be immediately and efficiently installed instead of leaving them lying on the ground whilst you fiddle with other tasks. It could become a hazard should you leave them around, so this is your best port of call.

Second, you want to begin making your measurements, measure the brackets from the outside edge to the other and jot down the measurement.
At this stage, deduct around 2-3 millimetres from your bracket-to-bracket size; however, if your roller blinds are fitting into the recess, then you may only deduct 1 centimetre. Ensure you consider the width of your brackets to accurately determine how much must be trimmed from the actual blinds.
A handy tip is to use a metal measuring tape predominantly used in woodworking. It can offer far more precise measurements and is slightly more flexible than a tailor's plastic measuring tape.
If one is available to you, please use a straight edge ruler, preferably one used by architects or engineers, to provide further accuracy.

Next, make the mark by placing one side of the measuring tape above the round top of your roller blinds, the area where you will find the metal pin. Then, pull or place the tape to the required length and mark it at the correct places using a pencil or marker pen. Make a completely straight line with the ruler and follow the marks on the width you have made previously.
Now you can begin cutting. The cutting process at this stage should be pretty straightforward. Cut neatly along the marked line till you reach the rod.
Be slow and careful and try to find or purchase the sharpest scissors to ensure further accuracy for cutting at your blinds. While making messy, jagged cuts that you won't end up happy with, dull scissors can also result in injuries as it takes that bit more extra effort to cut through the material.
Finally, you can trim off. Trim any excess material from the edges you are unhappy with to have a more polished, cleaner finish. You can even use a hacksaw to cut the rod from the roller blinds and use sanding paper to polish up and smoothen the edges.

After doing so, you can hang up your blinds, ensuring your workspace is clean and tidy and all sharp tools used are put away in a safe space.
How to install Roller blinds inside the recess?
Fitting roller blinds, once you know what you're doing, can become quite a fast process. Before you begin, gather all the necessary tools, including a screwdriver, a tape measure, screws and a drill that fits the size of your screws, a pencil that you can easily be rub away so that you can mark the wall and two mounting brackets.
The first step is to measure the depth of your window recess. Doing so allows you to determine where you may install your bracket more accurately later on. Take into consideration the window handles; to do so, take measurements shallower than the obstructions.
It ensures that your blind can operate much more effortlessly. Next, put the bracket on the lintel in your desired location; the lintel is the horizontal support often made with wood, stone or steel.
You can find it mostly in windows and doorways. Once you have done so, mark the holes and drill the screw holes.
Now it's time to install the brackets. Again, it would be best to place the wall plugs inside the holes you previously made and use the screwdriver to drill the screws through the first bracket. Next, do the same for the second bracket you have.
Take your idle pin, insert it; hold the blind closed, and ensure it is entirely securely wound around the headrail. As you insert the idle pin to the end, ensure you do so until it snaps into place completely.
At this stage, you can mount your blinds into the brackets. Then, snap the control end into the frame and repeat the process with the blinds opposite end.

Finally, you can install the safety device as far from the control mechanism as physically possible. Ensuring it is installed this way allows for the pull cord to remain taut so that you can easily open and close the blind as you please. The child safety device can then be vertically placed flat against the wall, mark the holes and beginning drilling it on using screws.
Is It True That Roller Blinds Are Cheaper Than Other Blinds?
The affordability of roller blinds compared to several other types is crucial in choosing which style to pick from.
Depending on your situation, the prices may be more relevant to you than other people; for example, if you frequently redecorate, you may wish to opt for something cheaper that you won't regret replacing. Roller blinds may be the best option for you if these are your circumstances, as roller blinds tend to be less pricey, and the payment will be much more.

Other blind types, such as Roman blinds, are often more expensive. However, these styles may be the best option for someone who rarely redecorates and desires blinds to invest in and add some luxury features to their home.

Which Roller blind fabric will suit my room?
There are numerous styles of blinds on the market in a wide range of designs and patterns, whether you desire the sleek minimalist look or a luxurious aesthetic for a more glamorous household.
Suppose you love colour, don't worry, there is an endless colour palette of choice for blinds to suit any colour scheme. Roller blinds also come in various exciting patterns of high-quality materials like metal blinds, wooden blinds, plastic, faux wood, etc., to stun and inspire.

Here are a few of our tips when shopping our collection of Made To Measure blinds:
For those homes where your theme or overall aesthetic is more plain or minimalist, a colourful blind can become the focal point.

To light more light into a perhaps dark living room, bedroom or kitchen, opt for a lightweight fabric that lets more light seep through.

Shop by colour. Matching blinds of the same design or colour allows the room to look more cohesive from inside and outside looking in.

If the walls in your home are of a darker shade, opt for blinds of a lighter shade, it offers a nice contrast, and the lighter colour will let more light in and keep the room from looking too dim or dark.

---
If you are looking for made to measure roller blinds in Gwent and Cardiff, get in touch.
Our soft furnishing experts can help you find the perfect venetian blind for your home. Call 01633 334417.