Vertical Blinds
Blinds increase the privacy of your home or office, providing insulation and as much as beautifying your house with unique designs. Vertical blinds are one of the best ways to cover your windows because of their flexibility and affordability.

Vertical blinds work perfectly in big glass windows or sliding doors creating an aesthetic design that many people love. Even though commonly associated with plain, beige fabric, they are incredibly versatile in terms of design. The costs are also very reasonable, and you get a product that will bring the value for your money. Phoenix Blinds manufacture all of our vertical blinds to ensure a tailored fit to your windows. There are thousands of design combinations to choose from, so you can be sure that there is something perfect for your home or office.
Stylish and versatile, vertical blinds are suitable for almost any setting, from a cosy home to a contemporary office. Our vertical blinds also come in various colours and patterns which would be the perfect addition to your house by giving it a modern flair.
The vertical blinds we manufacture are economical to purchase and maintain since fabric materials can be easy to clean, making it the choice for the majority of homeowners.
Vertical blinds offer a precise solution to light control- they can be pulled back to expose the window and take advantage of the light completely. Alternatively, the slats can be tilted to diffuse the light entering the space.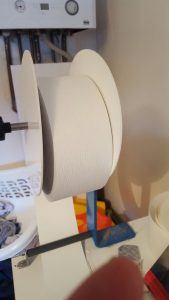 Quality drives our company, thus purchasing our vertical blinds you will be sure of quality and reliable shades which will offer excellent value for money. Making your home looking great with the privacy you need is what we intend to provide you with our blinds.
We offer the best vertical blinds in the market and when you feel like making your house look beautiful don't think twice, just trust our services and get the best since it's what you deserve. Many people who have our products give positive feedback which is a good sign of satisfaction thus not doubt trusting our products.