Made To Measure Vertical Blinds

Gwent and Cardiff
If you are looking for made to measure vertical blinds, we offer the best quality and services in Gwent and Cardiff.

Blinds increase the privacy of your home or office, providing insulation and as much as beautifying your house with unique designs. Vertical blinds are one of the best ways to cover your windows because of their flexibility and affordability.

Vertical blinds work perfectly in big glass windows or sliding doors, creating an aesthetic design that many people love. Even though commonly associated with plain, beige fabric, they are incredibly versatile in terms of design.

The costs are also very reasonable, and you get a product that will bring value for your money. Phoenix Blinds manufacture all of our vertical blinds to ensure a tailored fit to your windows.

There are thousands of design combinations to choose from, so you can be sure that there is something perfect for your home or office.
Stylish and versatile, vertical blinds are suitable for almost any setting, from a cosy home to a contemporary office. Our vertical blinds also come in various colours and patterns, which would be the perfect addition to your house by giving it a modern flair.
The vertical blinds we manufacture are economical to purchase and maintain since fabric materials can be easy to clean, making it the choice for the majority of homeowners.
Vertical blinds offer a precise solution to light control- they can be pulled back to expose the window and take advantage of the light completely. Alternatively, the slats can be tilted to diffuse the light entering the space.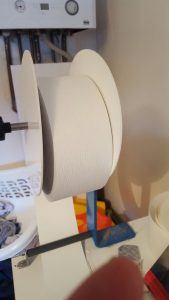 Our Stylish Vertical Blinds

Quality drives our company, thus purchasing our vertical blinds you will be sure of the quality and reliable shades which will offer excellent value for money.

Making your home looking great with the privacy you need is what we intend to provide you with our blinds.
We offer the best vertical blinds in the market and when you feel like making your house look beautiful, don't think twice, just trust our services and get the best since it's what you deserve. Many people who have our products give positive feedback which is a good sign of satisfaction, thus not doubt trusting our products.
What is the Best Material for Vertical Blinds?
The best material for vertical blinds is synthetic polyester fabric, as this kind is harder to break down, due to the other fibres that it is made of. Although, vertical blinds can also be made from other materials, depending on the overall design you are looking for.
Other regularly used materials for vertical blinds are aluminium, wood and vinyl. The best material to use for vertical blinds will depend on the look you want, and the specifications you want, such as how much light can come through.
Is it Easy to Fit Vertical Blinds?
Yes, it is easy to install vertical blinds, as long as you follow the specific instructions, and have the right tools. If you struggle, it is important to get in touch with a professional to help you, and ensure the job is done correctly.
You may need to shorten them, depending on the measurements of your window, and you must use a tape measure, screwdriver, scissors, a saw, pincers and a pencil to make markings to show where the screws need to go in.
What Sizes do Vertical Blinds come in?
The size that the blinds come in will depend where you get them from. For example, if you buy them from a local hardware store, then they will only come in set sizes; typically these are anything between 24 x 72 - 72 x 72.
However, some places can do personalised blinds, which means they can cut them down to the exact measurements you need. If you are buying your blinds from your local hardware store, you don't need to worry, as you can cut them down to size yourself.
Are Vertical Blinds Good for Bedrooms?
The answer to this question will depend on what you are looking to accomplish from your blinds. For example, if you are looking for the full blackout effect, then vertical blinds may not be your best option.
However, if you choose the right colour, they can add a great look to your bedroom. There are also blackout vertical blinds, but it is possible for the light to get through the small spaces in between.
Contact us for Made To Measure Vertical Blinds
Here at Phoenix Blinds, in Wales, we do made to measure vertical blinds so that the installment process will be much quicker and easier.

All you need to do is measure the window space that you are having your vertical blinds, pick your colour and design, and we'll do the rest. A member of our team will be happy to give you advice and answer your questions and queries.
If you would like to find out more information about this service, please don't hesitate to give us a call on 01633 334417 or send us an email today.